Centralised Lubrication
| | |
| --- | --- |
| The catalogue as a pdf download version | Firma Fritsche GmbH & Co. KG. is manufacturer of industrial fittings for centralised lubrication systems like hose lines, reusable screw connections and a various range of accessories. Worldwide, we supply producers of centralised lubrication systems (OEMS) and wholesaler |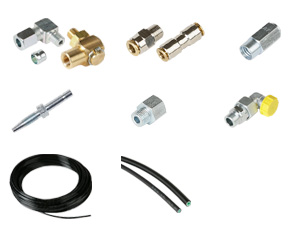 The classical method for applying lubricant to friction points on equipment and machines, consists in supplying each grease point individually with the help of a hand-levered or battery powered grease gun.
Inaccessible points are included in the lubrication plan of this time-consuming and highly unreliable system, the regularity of manual lubrication however is by no means ensured.
Choosing when to apply the lubricant, and in which quantities, are additional disadvantages.
Using automatic lubrication systems such as loss-, circular-, lifetime-, and splash lubrication has proven to be far more effective.
Centralised lubrication belongs to this array of lubricating systems.
Centralised lubrication is used to deploy lubricants accurately and timely, in calculated quantities, thus reducing wear and friction.
As part of a centralised lubrication system, lubricants serve the purpose of protecting the bearings from friction, as well as from foreign contaminants (a protective collar is formed)
In addition to this, such lubricants have sealing properties. They need to be applied to friction points at the right time and in the right quantities; this is assured by the lubrication systems, e.g. centralised lubrication.
Lubricants usually consist of the predominant base oil and the additives, which are added ingredients.
These lubricants are regularly depleted in the centralised lubrication system by ageing and by being exposed to considerable mechanical and physical stress.
When used in factories, centralised lubrication ensures that lubricants are also in movement, transported to target points and thereby supplying the bearings with continuously fresh lubricant. This is especially important since lubricants are constantly exposed to numerous forces, have to cope with pressure and shearing stress at friction points, and resist the in- and out-flux of heat. Chemical interactions with humidity, water, air and other materials, are not uncommon, e.g. gaskets, or nitration due to fuels.

Centralised lubrication is recommendable wherever more than one friction point needs to be supplied with lubricant. This reduces maintenance expenditures. Centralised lubrication, or a central lubrication system, guarantees uniform lubrication with the required quantities, thus reducing wear and tear, raising equipment longevity and lowering lubricant consumption rates.
Systems of centralised lubrication supply all bearings of the operational machine with the required quantity of lubricant at set times. Systems of centralised lubrication are not limited to specific areas. They are available in different sizes and types. The advantages consist in the centrally lubricated machine no longer being subject to failure, and enabling both human and mechanical resources to work continuously. This is also why expenditures for maintenance and reparations are lowered considerably, as is the consumption rate of lubricants - the latter may be reduced by 40%, important from an environmental point of view. All bearings in the centrally lubricated system will sustain operative wear and tear for longer periods of time.

There are different types of centralised lubrication systems.

Single-line lubrication systems, for use with liquid grease which is applied to friction points via lubricant distributors and relubrication distributors with intermittent pressure. This can take place at up to 100 lubrication points simultaneously.
Progressive centralised lubrication systems
The lubrication pump feeds an exact amount of the employed lubricant (solid, liquid or oil) into the supply line and to the main distributor (a block distributor, disc distributor or other type of progressive distributor).
This pre-distributor ensures that all bearings connected to lubrication points are reached via the sub-distributors and supplied with the calculated about of lubricant. Ideally, the sub-distributor's outlets should be situated in the immediate vicinity of the bearings.
An optimized lubrication pattern is comfortably achieved with any type of centralised lubrication system, as the amount of dispensed lubricant can be adjusted to the de facto requirements of each bearing.
The distribution function in a centralised lubrication system is effectively monitored by numerous control units, including a reciprocating dosing piston, lubricant level monitoring and pressure monitoring.
Simple optical monitoring becomes possible by installing display instruments measuring movement at the distributors.
Modern controlling systems not only register and record failures, but also the precise times at which they occurred.
Due to minimal material costs, progressive systems for centralised lubrication represent an affordable and functionally reliable solution for securing lubrication of friction points and bearings.
Before installing a centralised lubrication system you should get the advice of an expert. The installation should only be carried out by a qualified professional.
It's a matter of choosing the suitable pumps and calculating the required quantity of lubricant.
In order to determine the required amount of grease for the centralised lubrication system, the exact consumption data for all connected bearings must be taken into account.

Only then will the centralised lubrication provide the bearings of the respective machines with the optimal quantity of grease. Only then can it achieve more efficient heat removal and lower rates of wear and friction. This is how centralised lubrication not only enhances the respective machine's durability, it also increases its effectiveness.


More Information:
Centralized Lubrication